Community Action Agencies Create New Programs, Adapt to Customer Needs, and Continue to Empower and Increase Community Resilience
---
New York's Community Action Agencies Respond to COVID-19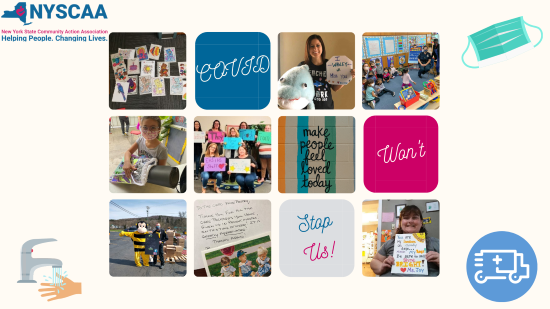 Click the picture above to view the scrapbook - or click here!
---
 Community Action Agencies Shine Light During Dark Times

Click the picture above to view the video - or click here!
---
Community Action Agencies (CAAs) were established in response to President Lyndon B. Johnson's Economic Opportunity Act of 1964 and the "War on Poverty." CAAs utilize local, state, and federal funds to assist people with barriers to employment, housing and food insecurities. They are the federally designated frontline resource for people living in poverty, providing direct services and support for education, employment and family support services for families with low incomes. In addition to direct services, CAAs are leaders in promoting community economic development through partnerships and inter-agency collaborations in their communities.
Each CAA in New York delivers programs and services integral to the area it serves, and each has long provided services that are needed within the community. The demand for services has increased exponentially during the COVID-19 pandemic and Community Action has stepped up to meet the challenge. Program staff are seeing an increase in inquiries from people experiencing hardships particularly as businesses shut down, wages are lost, and necessities are harder to obtain.
While CAAs have made significant adjustments to address increased need, the state's stay-at-home order has challenged the work they normally do.
During NY PAUSE, CAAs have created new methods to meet the needs of the communities they serve and are working tirelessly to ensure staff are safe while community members receive the vital and critical services they need. As Community Action has demonstrated throughout its history, CAAs are responding to a rapidly changing situation and creating a new "norm" to what a work day looks like and how services are delivered to those most in need.  
In responding swiftly to NY PAUSE, CAAs have been quick to embrace technology to not only provide essential services in new ways but also to provide significant services remotely. For example, Mohawk Valley Community Action Agency is utilizing remote technology to make wellness visits on a weekly basis. This results in staff connecting more frequently with families and quickly completing referrals to needed services. Through the use of technology, deeper relationships are being developed. CAAs are utilizing multiple media platforms and conducting virtual home visits or virtual classroom sessions to stay connected to their customers. By using these tools, programs remain active, customers continue to obtain services, and staff remain employed and engaged with customers and community members.
 To address the increase in food insecurities during the COVID-19 pandemic, CAAs have created new distribution methods. For example, Delaware Opportunities, Inc., based in Hamden, NY, has created "meal bags" that contain nonperishable items, fresh items, frozen items, recipes, and nonfood items such as hygiene products, cleaning products, and baby items.  CAAs across the state have adjusted their food pantries to pick-up only, and if able, have implemented a delivery service. Adding the option of delivery has assisted in meeting the needs of hundreds of members of the senior community, families with children, and people who have limited support and who are unable to obtain their own food. ProAction of Steuben and Yates, Inc., based in Bath, NY, has seen an increase of over 140 customers through their Senior Nutrition Home Delivered Meals Program. ProAction ensures that every senior has a minimum of five shelf-stable emergency meals in their home in the case that delivery cannot occur. In just over two months, this program has prepared over 2900 home delivered meals in Yates County and over 10,000 meals in Steuben County in addition to 1,335 emergency meals and 380 emergency food boxes.
In addition to providing food support, CAAs are working diligently to meet needs identified by community members and partners.  CAAs are delivering prescriptions from pharmacies to residents.  Books and games/activities are being delivered to both senior community members and families with children to provide those who are isolated with much needed diversions and engaging activities.  Providing essential and emergency services is one of the hallmarks of CAAs.  CAAs across the state such as ACCORD in Allegany County and Community Action Planning Council of Jefferson County, are assisting in providing childcare services to the families of essential workers.
Working with community partners, CAAs across the state have ensured services remain active and responsive. These critical services include Domestic Violence and Sexual Assault Services Hotlines, Mobile Child Advocacy Centers, transportation to necessary medical appointments, homelessness prevention, and the continued operation of homeless shelters and transitional housing, to name a few. Working with unsung heroes in their communities, CAAs make connections.
COVID-19 has meant more customers, and new clientele looking for support from Community Action.
Since the beginning of the pandemic, and with the rising number of lay-offs and furloughs, community members who may not have utilized the services of the Community Action network are now finding support and assistance from their local CAA.  CAAs report individuals seeking assistance for services who had not yet received their unemployment benefits and are falling behind on their bills such as rent and utilities. Mohawk Valley Community Action Agency is utilizing funding to assist over 2,000 families with emergency rental assistance and emergency utility assistance. Some CAAs are able to assist with car payments, car repairs, childcare, and are even purchasing phones with extra minutes and data cards for customers who need ongoing case management, especially for victims of domestic violence.
Across the state of New York, the Community Action Agencies have expanded programming and increased collaboration with other nonprofit organizations, local businesses and more to assist those in need during the COVID-19 pandemic. 
Collaboration is no stranger to Community Action and is the way CAAs work within their communities. Since the beginning of the pandemic, CAAs have continued to be a vital partner, assisting wherever needed with the coordination and delivery of services. CAAs across the state have created new collaborative relationships or have strengthened relationships through new initiatives. Debra Schimpf, CEO of Schenectady Community Action Program (SCAP), based out of Schenectady,  states "The Community Action philosophy is to connect those dots; Community Action is about the connectedness to the community." Schenectady Community Action Program has collaborated with other nonprofit organizations to create a food delivery service to assist those people affected by COVID-19 who cannot leave their homes to obtain the food and household items they need. Cattaraugus Community Action partners with a local restaurant on their  "Stock the Freezer" program  - in which  meals are prepared and then delivered by agency staff to those in need.  To meet the growing need, more restaurants in the county are joining the efforts - reaching more people than originally expected.
Andrea Ogunwumi, CEO of Economic Opportunity Program, Inc. (EOP), based out of Elmira, states, "As an 'essential business' during the COVID-19 Pandemic, EOP is providing basic necessities to economically disadvantaged populations, childcare services, and food services including the CFJP Bistro (take out/delivery), and more than 350 meals serviced daily at curbside and delivered to homes." ACCORD Corporation, located in Belmont, NY, is partnering with a local dairy to add dairy products to food boxes, as well as other local vendors to obtain coolers to transport and cover delivery services on weekends. Opportunities for Otsego, Inc., based out of Oneonta, is building new partnerships with the Rural Health Network of Central New York to coordinate transportation for COVID-19 connected needs for families relating to food, prescriptions, medical appointments, etc..
As the state and nation grapple with the results of this pandemic, Community Action Agencies continue to address each community's needs and prepare to meet emerging needs.  CAAs in NY, who have long been a source of comfort and support for community members, will help communities during this crisis and will help the community come back stronger and more resilient.
The Promise of Community Action: "Community Action changes people's lives, embodies the spirit of hope, improves communities, and makes America a better place to live. We care about the entire community, and we are dedicated to helping people help themselves and each other," reinforces that CAAs in NY are here for me, for you, for all of us.
To find a Community Action Agency near you – visit https://www.nyscommunityaction.org/the-ny-network.